Date: Friday, April 26th, 2019
Time: 5:00-10:00 p.m.
Location: OH Zone - 2020 Kipling St Lakewood, Co 80215
21+ Older Event (MUST RSVP, bring ticket, and valid Id) (We are asking for a small #donation of $4.20 to cover cost of food & drinks)
Colorado NORML invites you to a Night of JOINT conversations with candidates that have received CoNORML Endorsements at Oh Zone on Friday, April 26th from 5-10 pm.! All #CoNORML #Denver #City endorsement candidates will be speaking. There will be good eats from Hemp Way Foods with #hemp tacos, hummus, and snacks galore. Drinks include water, wine, and sangria.
Come sip on sangria
, chill around a fire
, munch on hemp
appetizers by Hemp Way Foods, and there's s'mores...!
A Fire pit will be toasty out back to roast marshmallows with amazing chocolate hummus and graham crackers! Perfect setting for some kum baya around a Campfire in the middle of the City!!
The elections take place on May 7th, ballots will go out on April 15th, please be sure your registration is current!
Please join us to fund raise and celebrate these candidates hard work and hear everyone listed below speak.
Patrick Thiabault - D 8
David Sabados - D 1
Tony Pigford - At Large
Chris Hinds - D 10
Candi Cdebaca - D 9
Lisa Calderon - Mayoral candidate
Paul Lopez - County Clerk & Recorder
Miguel - D 8
Annie Martinez - D 3
This fundraiser event is on Friday April 26th, from 5:00pm - 10:00pm at OH Zone , on 2020 Kipling St. Lakewood, Co 80215.
Please RSVP by replying to this email so we can make sure to have plenty of drinks and snacks on-hand.
Since candidates always need to raise money to run their campaigns, we are offering tickets for the event HERE in the form of a donation. Please donate what you can before the event, and we encourage you to make a contribution at the event as well if you like the candidates message and would like to put them on the path to victory with us.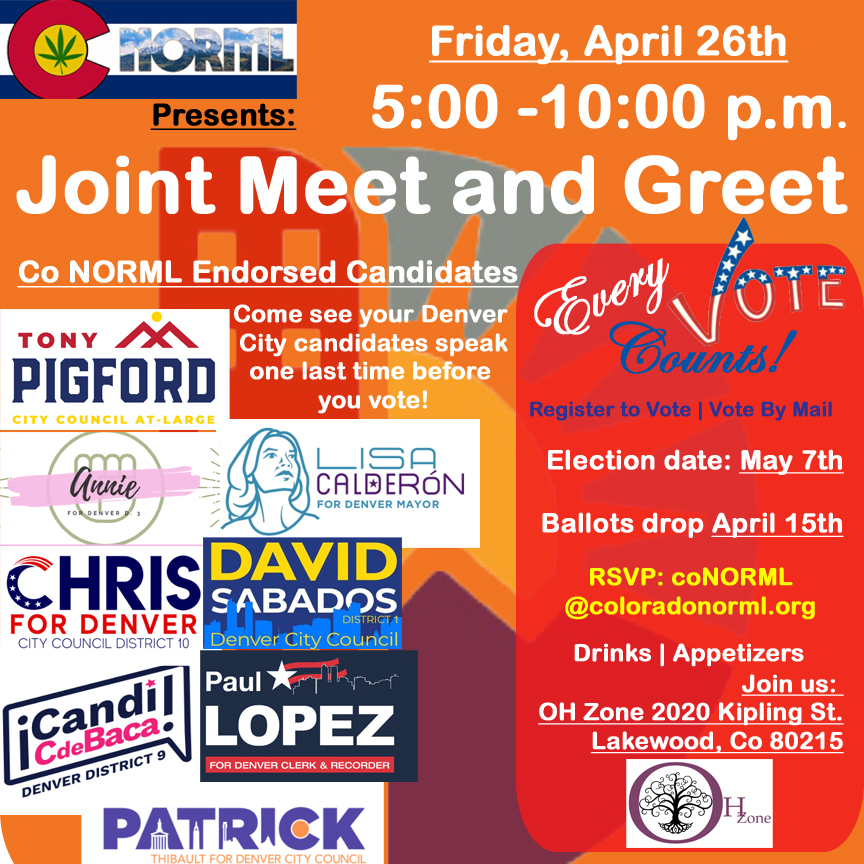 This event is also posted on Facebook HERE
RSVP: coNORML@coloradonorml.org
Get your tickets HERE
If you have any questions, or would like to know more, please don't hesitate to include your questions with your RSVP email and we will get back to you promptly!
All DONATIONS will be split between ALL Candidates! So PLEASE kick the change in your pockets to the Donation Jar!
Sincerely,
Co NORML